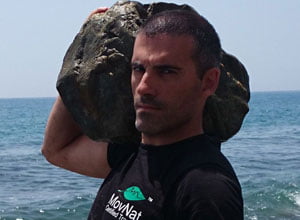 Rafa Diez is the founder of "Movenat Entrenamiento Natural" in Madrid, Spain. Rafa and his organization are presidents of the Barefoot Running Society and offer coaching for barefoot runners as BTR and Vivobarefoot experts. He is also the first Spartan Race Coach in Spain bringing obstacle races to Spain and offering official training for them weekly. His background includes "traditional" sports like mountaineering, climbing, MTB, ultra-trail running, kickboxing and Aikido.
Fitness Philosophy
After a near death motorcycle accident Rafa was given 24 hours to live by his doctors. Rafa overcame tremendous injuries which inspired him to explore and appreciate his body's movement. Rafa went on a journey, exploring, learning, meeting and getting certified with some of the best movers from all over the world, such as Mike Fitch, Erwan Le Corre, Joe Di Sena, Lee Saxby and Gray Cook.
After his recovery he Founded "Entrenamiento Natural, "Real and pure Movement specialists"". His company offers non-conventional training from real movement experts. Located in Spain, he promotes Animal Flow as the "movement revolution", and believes that functional movement is an incredibly valuable component to individual fitness.
"Animal Flow was the answer I was looking for to properly integrate speed, control, balance, strength, coordination, power and concentration into our training. I found that Animal Flow was the perfect balance between all of the pillars of true movement." – Rafa
He believes you must gain and reclaim control of movement, prior to loading weight or running far. Rafa teaches that movement is the basis for far more complex and exigent exercise than people are aware of. Step one: control yourself.
Rafa believes it is best to learn from scratch how to move, walk, run, get up, crawl, squat, swim, carry, climb, etc. After your technique is almost perfect, you should take things to the next level and use weight, reps and time, keeping in mind the basic patterns you have learned.
"You are not going to be here forever, so don't waste your time. Train for real life, but live a real life. Change your lifestyle: feel, move, explore. Take risks and get dirty. Feel free. And Flow. Be strong to be useful, move smarter, move more, move better, move REAL." – Rafa
Qualifications and Certifications
Animal Flow Certified Trainer
Movnat Spain Founder
Movnat EntrenamientoNatural Master Instructor
Spartan Race X Coach
Movnat Certificate Trainer
Barefoot Runners Society Spain President
Vivobarefoot barefoot running Coach
Born to Run Coach
Chemistry degree
Nutritionist Master
CPR & AED Certified